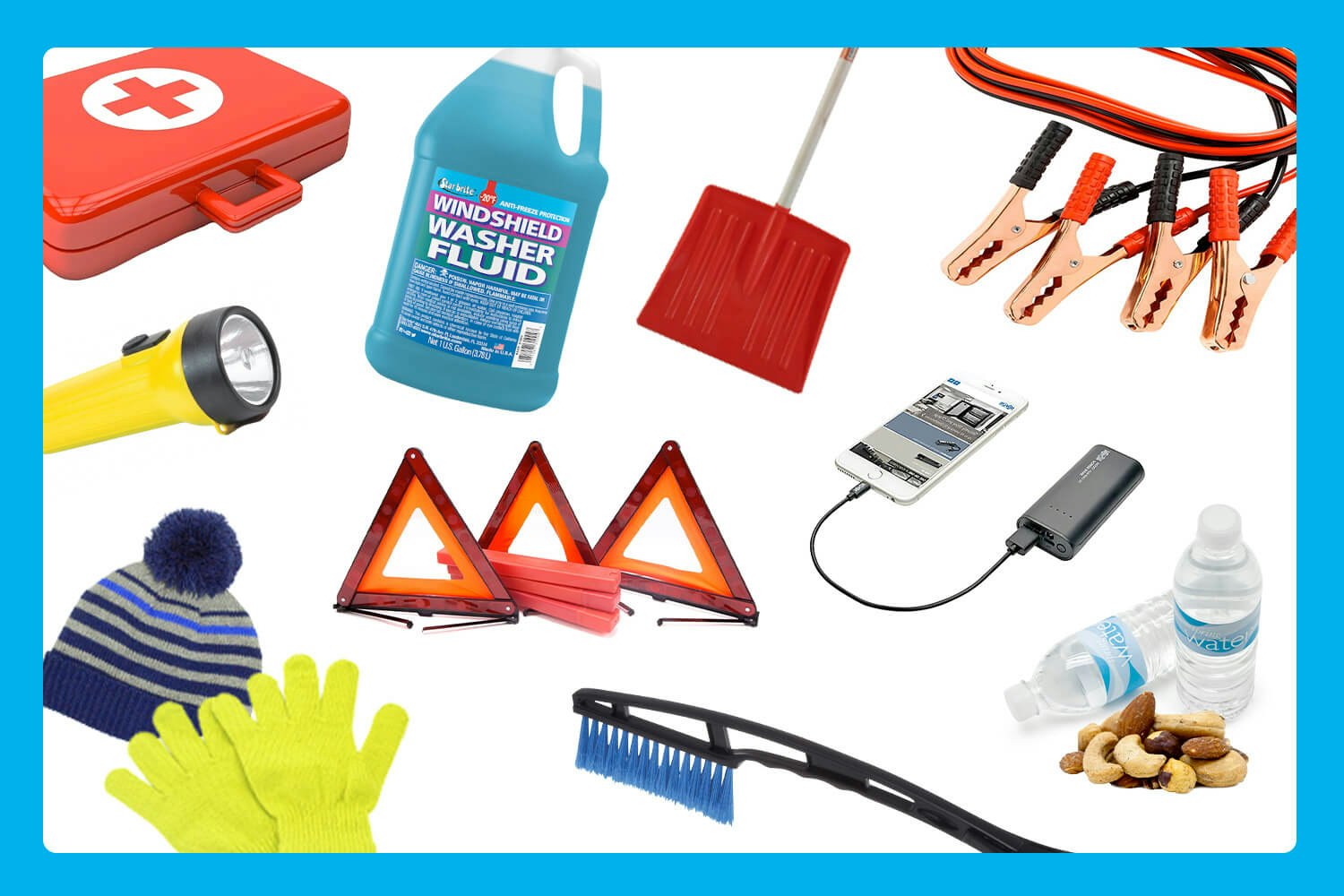 15 Things To Keep In Your Car, Just In Case
When You Hit the Road, You May Hit a Roadblock
Breakdowns, accidents, weather, traffic and other occurrences impact travel. While you can't be 100% prepared, we have suggested items to keep in your car that can help. You may not need all of these items. Assess your situation and personalize your preparedness package.
Sturdy ice scraper and snow brush


Cold weather can arrive early! Have an ice scraper and snow brush in tow to clear your vehicle of snow and ice.

Shovel


Buy a small or collapsible shovel to keep in your trunk. It will be useful if your car is stuck in snow or if you have to clear a path to drive.

Gloves and other winter clothing


Need to scrape or shovel? You'll want to bundle up!

Blanket


Stranded or in an accident? It can get cold fast if your car won't turn on. Cover up!

Emergency flares or reflectors


Snow storms reduce visibility. Reflectors help cars and emergency vehicles see you.

Rock salt, sand, or kitty litter


Spread these coarse materials near your tires and path to get out of a slippery situation.

First aid kit


Essential year-round, a first aid kit is really important during winter because emergency response time may slow if it's snowing.

Extra windshield washer fluid


For visibility, ensure your windshield washer fluid has antifreeze components to prevent it from freezing.

Flashlight


A flashlight can facilitate vehicle examination, especially when dark, which happens earlier in the winter. It also makes you more visible.

Rope or chain


A tow chain is a great tool to get your car out of snow.

Jumper cables


Cold weather can affect a car's battery. You can't start your car if the battery's dead, so keep jumper cables at the ready.

Small tool kit


You can fix minor vehicle problems with basic tools and simple instruction, learned ahead of time or via mobile device.

Sunglasses


The sun's reflection on snow is bright. Wear sunglasses while driving to reduce glare.

Mobile device charger


Charge your mobile device before driving and keep a charger in your vehicle, so you can call for assistance if you need to.

Water and non-perishable snacks


When stranded, assistance could be delayed. Store water and non-perishable snacks in your vehicle. Have kids? Consider having extra on hand.
Be careful out there! At Loyalty Collision, we're here when you need us.
Back to Parent Page