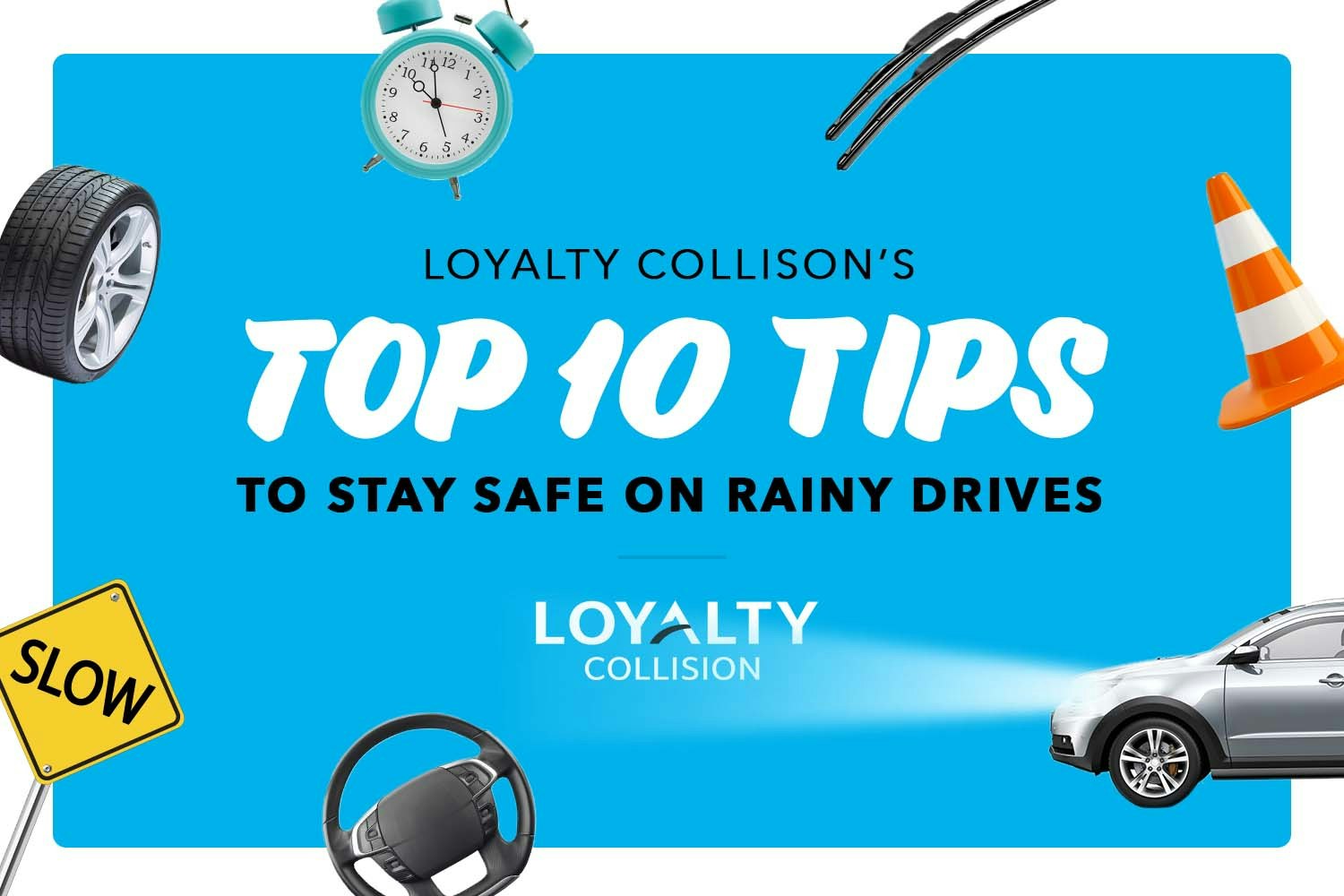 Loyalty Collision Center's Top Ten Tips to Stay Safe on Rainy Drives
Rainy Day drives can seem pleasant … and risky. Whether a light sprinkle or torrential downpour, wet roads can make driving conditions less than ideal. Steer clear and drive safe, with these rainy day driving tips from Loyalty Collision Center. 
Tip #1: Wait for Clearer Conditions
If you feel at all uncomfortable driving in rainy conditions, wait until the weather improves. No journey is worth risking your safety! As the skies clear up and the roads dry, you can travel in confidence. 
Tip #2: Check Car Condition
All the parts of your car work together to get you where you need to go. It is even more important, on rainy days, to ensure that all equipment is functioning properly. Check headlights, tail lights, windshield wipers, and tire tread before leaving on a rainy day.
Tip #3: Go Slowly 
Take your time when driving in the rain. Your brakes may not be as effective on wet roads. Reduce your speed to help you avoid a collision on a rainy drive. 
Tip #4: Headlights On
Bright lights can increase your visibility drastically—and other drivers' ability to see you! Always check to be sure your headlights are on during rainy drives. 
Tip #5: Windshield Wipers On 
Even in a light misty rain, visibility can be tricky. Switch on the wipers just to be safe. 
Tip #6: Vehicle Distancing 
Stay a few car lengths' behind other vehicles so that a sudden stop on wet roads won't send you slipping and sliding into the bumper in front of you. 
Tip #7: Brake Gently 
Avoid using cruise control during rain, as it increases the time it takes to come to a complete stop. When you need to slow down or stop, remove your foot from the gas and apply the brake gingerly. 
Tip #8: Keep an Eye on Puddles
Drive around puddles when possible, to keep from skidding atop the surface and hydroplaning. 
Tip #9: Stay Calm if Hydroplaning 
Hydroplaning is very common in rain. Remove your foot from the accelerator and maintain your direction. Sudden turns or quick braking can make things worse!
Tip #10: Use the Defrost Setting 
Rainy drives often lead to foggy windows. Keep your view clear with the defrost setting in your car. Cold air on the windshield should clear up the fog, allowing you to reach your destination safely. 
Stay Safe! 
Loyalty Collision is here for you when you need us. Visit any of our four convenient locations in Chester, Petersburg, West End, and Williamsburg.
Back to Parent Page